As a Google Analytics user, you likely received a cryptic email from Google with the subject line "[Important Reminder] Review your data retention settings before they take effect on May 25, 2018"
It is a slightly confusing email that has no clear follow up actions. Don't worry, here's what to do in three quick steps:
Step 1. Log in to Google Analytics Admin section
Log in with your Google Analytics password at analytics.google.com, choose your account and click on the orange "gear" icon at the bottom left hand side of the page.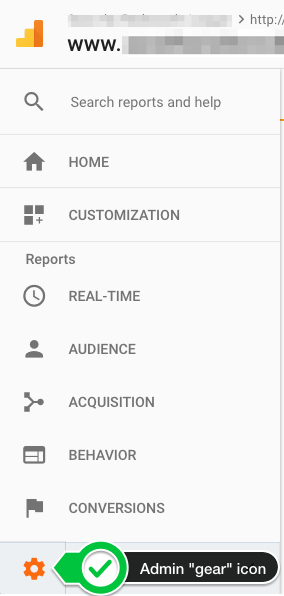 Step 2. Click on Property Settings > Tracking Info > Data Retention
This is in the middle column of the admin page.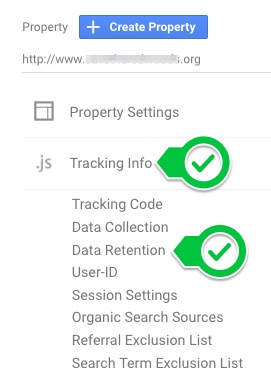 Tracking Info > Data Retention" width="271″ height="381″>
Step 3. Set "User and event data retention:" to 38 months and confirm that "Reset on new activity" is ON and click to Save.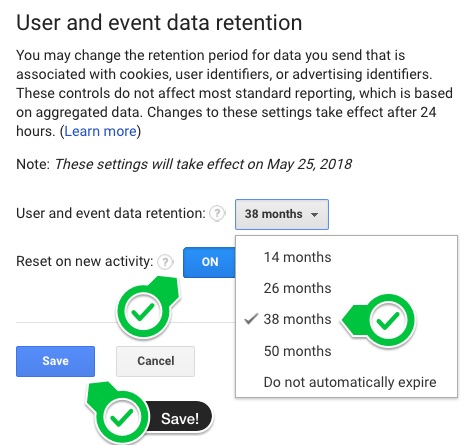 Step 4 [Optional] Understand what you did (and didn't) just do
– Your data won't be deleted after 38 months, only a small subset of your data that could be used to identify individual users will be affected. Standard reports in Google Analytics will not be affected, while some advanced segments and custom reports will see gaps in data older than 38 months.
– Setting the "Reset on new activity" to "On" means that every time someone revisits the site their data is stored another 38 months – you will only lose data on people who haven't visited your website in more than 3 years.
– This change is connected to new regulations on data collection from Europe coming into effect on May 25th, 2018, called the General Data Protection Regulation or GDPR for short.
Further reading
Here's a great plain-language post "New Data Retention Policies in Google Analytics" from Krista Seiden's blog.